Yes people, it does not need for a rocket scientist and a lot of mathematical equations to simply notice that the University of the East Red Warriors is indeed surging at this point of the season.  Two weeks ago, the Red Warriors were at 4-5 and most were already counting them out of contention for the Final Four race.  The Red Warriors were playing out of control then I should say.  They do not play smart basketball, almost close to a streetball because it was just too much run and gun.
They beat lowly Adamson to improve at 5-5 this season.  Fine, no big deal.  Then came the National University Bulldogs, which beat them in a close game, 57-55 back in their first round encounter.  With Charles Mammie now getting more playing time than the highly-touted Moustapha Arafat, the second round encounter was a whole different story as the Recto Boys easily handled their Sampaloc neighbors to the tune of 64-55.
Last Sunday, another test awaited UE, this time their closest neighbors, the league-leading Far Eastern University Tamaraws.  If everyone thought the win over NU was just a fluke, the Red Warriors proved otherwise as they handled the Morayta-based dribblers their biggest defeat in Coach Nash Racela's stint as an FEU head coach.  It was one of those days wherein UE's inside and outside game clicked big time.  Mammie controlled the paint, while Galanza, De Leon, Alberto, Varilla, and Sumang handled the perimeter.
Suddenly, the UE Red Warriors introduced themselves as a legit contenders in the post-season.  Oh wait, they were even in the list of the Final Four teams according to pundits during the preseason.  Maybe, UE is just validating what others were saying about them all along before the season started.  They may have encountered those bumps on the road because I think they just leaned too much on Arafat and tried to balance the playing time of both their foreign student-athletes.
On Wednesday, it will be De La Salle's turn to stop this rampaging and confident UE squad.  After watching the Red Warriors dismantle the Tamaraws, most, if not all, La Salle supporters were saying that the Green Archers cannot just simply dish out the effort that they showed starting from the FEU game until the Adamson game if DLSU wants to end Wednesday and get out of Araneta Coliseum with a much-needed victory.
Do not be surprised if Wednesday's game will look like a playoff atmosphere.  De La Salle needs to win to stay in the hunt for the twice to beat advantage going into the Final Four.  It still does not look good also if the Green Archers will lose their last two games and finish the elimination round with a 9-5 record because they may end up tied with UE at 9-5 also and this will produce probably a playoff for last place in the Final Four.
Right now, this is how the Green Archers and the Red Warriors stack up this elimination round: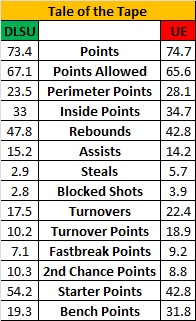 Last time out, the Green Archers mustered a gritty fourth-quarter run to steal a win against UE but with the way the Red Warriors are playing at the moment, that will not be possible.  The Green and White should play sharp at the beginning for forty minutes to stave off this hungry UE team.  The Red Warriors are not just hungry for a win but also hungry to prove themselves that they belong to play in the post-season.
Right now, I should say the focus of La Salle's defense will shift from Roi Sumang to Bong Galanza.  I strongly believe that Galanza has UE's keys in the offense at the moment along with Charles Mammie for a potent inside-outside offense for the Red Warriors.  Once the defenses collapses inside, Varilla, De Leon, Alberto, Olayon, and even Roi Sumang will always be ready to take the perimeter shots once it will be available to them.
Most will pay attention and focus to UE's full court pressure defense but for me, UE will not just rely on scoring off turnovers but more importantly, they can now fight toe to toe in half court sets since they have Galanza and Sumang to create individually or if it bugs down, they can easily dump the ball down to Mammie at the low post for inside movement.  Mammie's medium-range has improved the past two UE games so it is not a sure-fire option to let him take wide open medium-range jumpers.
One trend that I also will see on Wednesday is letting Galanza take over from first to third quarters then giving Sumang some freedom in the fourth period just like what happened last Sunday against FEU.  Just when the Tamaraws seem to think that Sumang will stay passive the rest of the game, Roi scored ten points in the process for two minutes in the final quarter, literally take the fight away from the Tamaraws.
The best option so far for the Green Archers is still to take the fight in the paint against the Red Warriors.  Norbert, Jason, and Jeron scoring inside will be very important to force Mammie into foul trouble early since Arafat is a different type of a tall guy inside, very different from Mammie's playing style and impact on both ends of the floor.  If UE decides to play it just like in the first round, which is aggressive at the top and on the perimeter, it will give driving lanes for Jeron to attack UE's defense and either he can finish it or dish it off to an open man underneath, just like what Prince did en route to a career game.
But there is a thought on me that UE will bring the pressure defense more, knowing that DLSU only uses Kib and Almond to bring the ball up, with Jeron as an emergency point guard so it will be better to attack UE's pressure defense and score easy points via press break.  It will be easier said than done though since in the first round, DLSU had, as a team, a career game also in the turnovers category so taking care of the ball will be important in this game for the Green Archers and hopefully they can break UE's press easily to score easy baskets.
Almond will always be Almond.  No matter what is being said about him, opposing defenses are still playing it honestly on him whenever he is on the floor so regardless whether he has a good game or not, he still has to see that playing time and he will always be an important cog on DLSU's offense.  It will only matter on how he will read UE's defense since all teams show hard on him every time he asks for a screen on come to him.  Better release passes and ball rotation which will result to mismatches, which will result to more offensive opportunities for the Green Archers will come.
I also hope that AVO will come back in full swing in this game to help out Norbert in the pivot.  He gained confidence in that UST game and I hope he carries it over against UE where he will be a big help battling Mammie down low.  I will also see Julian getting busy shadowing Galanza and limiting his production.  I still see Kib manning Sumang, as he was effective back in the first round, especially forcing Sumang to miss in a potential game-tying jumper at the buzzer.
UE's confidence is getting stronger after two big wins and with the Green Archers pulling a stop on this Red Warrior run, will certainly help DLSU coming into their final elimination round game on Saturday against NU.  I still believe that if DLSU puts in their focus for forty minutes, I do not see any reason why La Salle will drop this game.  UE has gotten two big wins but nothing will be more important but this game against DLSU.  UE's mental toughness will once again be tested in the big stage, where they were suspect at the beginning of this season, not playing it smart, resulting to all of their defeats.
On Wednesday, the battle plan is simple: Outwit and outplay to get that all important win.  Win that mental battle over UE and the Green Archers can look into Saturday looking to lock that twice to beat seat in the Final Four.