The FEU Tamaraws thought stopping JV Casio meant stopping De La Salle. But they forgot about James Mangahas, and they paid dearly for that.
The three-year veteran forward scored 20 big points, including the final seven points of the Green Archers, and became the latest hero for De La Salle as the defending champions barges into the Finals of Season 71 of the UAAP Men's Basketball Tournament.
With the Tamaraws ahead by one-point, 62-61, less than a minute left in the game, Mangahas converted on a Simon Atkins assist and completed a crucial three-point play, to put the Green Archers on top by 2 points, 64-62, 35 seconds left in the game clock.
FEU's Mac Baracael ha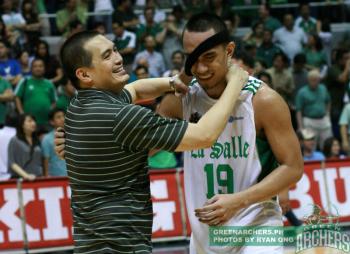 d a chance to tie the ballgame anew after he was fouled by Rico Maierhofer but the FEU forward, who averages 71.4% from the free throw line, missed both charity baskets. Mangahas was fouled anew and split his charity baskets to give the Green Archers a safer three-point margin, 65-62
Trying to keep FEU's finals hopes alive, Paul Sanga threw a three-point shooter, which bounced off the rim and Mangahas grabbed the all-important offensive rebound, his lone carom for the game, and sped his way to the other end of the court for an easy lay up which finally nailed the Finals slot for the Green Archers.
With the win, the Green Archers cemented their claim of being the most dominant UAAP basketball team as they will make a 13th finals appearance in 15 consecutive UAAP seasons, missing only in 2003 and in 2006, the year of the suspension.
The Archers will meet the league leader, the Ateneo Blue Eagles on Sunday for the first game of their championship series.
THE SCORES:
DLSU 67 – Mangahas 20, Casio 11, Maierhofer 8, Malabes 7, Barua 7, Ferdinand 6, Atkins 5, Bagatsing 3, Villanueva 0, Revilla 0, Mendoza 0
FEU 62 – Cawaling 18, Ramos 12, Fernandez 9, Baracael 8, Adolfo 6, Cervantes 5, Sanga 2, Barroca 2, Knuttel 0
Quarter Scoring: 16-20; 34-38; 48-52; 67-62