Season 78 Record: (6-8); 5th seed, missed a chance for a playoff for the 4th seed after dropping their final game vs. FEU;
Losses: G-boy Gob (injured ACL during preseason); Larry Muyang; Lorenzo Navarro (transferred to San Sebastian); Daryl Pascual (transferred to Letran); Joshua Torralba (went back to the US); Leo Joson (Team B)
Additions: Justine Baltazar (NU), Mark Dyke (NU), Ben Mbala (Republic of Cameroon; played 1 year at SWU Cebu back in 2012), Aljun Melecio (DLSZ), Brent Paraiso (DLSZ), Ricci Rivero (LSGH)
Returning Players: Andrei Caracut, Jolo Go, Andrew Langston, Kib Montalbo (returns after missing Season 78 due to injury), Jason Perkins (graduating), Prince Rivero, Julian Sargent (graduating), Jeron Teng (graduating), Thomas Torres (graduating), Abu Tratter
Background:
The House of Chaos has relocated. From its residence in Muralla St., Intramuros last year, it has moved to 2401 Taft Avenue in Malate, Manila.
The House of Chaos, of course, also has a new foundation. Last year, it was built on the pint-sized Mark Cruz, Kevin Racal, and Rey Nambatac. This year, the House is founded on Jeron Teng, on the physically-imposing Ben Mbala, and on veterans like Thomas Torres, Kib Montalbo, Abu Trat-ter, Prince Rivero, Jason Perkins, and Julian Sargent.
New additions have also been placed to strengthen the House and make sure that it endures. Home-grown players Aljun Melecio, Ricci Rivero, Brent Paraiso, and blue-chip recruits like Justine Baltazar and Mark Dyke will all be part of the House to ensure that it survives and thrives in the years to come.
One thing that has remained constant in the House of Chaos, however, is its architect: Aldin Ayo, who will call the shots for the Green Archers this UAAP Season 79, replacing former head coach Juno Sauler. And the rest of the league already had a taste of the 'Mayhem' that Ayo is planning to unleash, as the Archers won 10 straight games in the Fil-Oil Preseason Cup by an average margin of more than 15 points.
Now, everyone's attention is on the House of Chaos in Taft, and there is a huge target on the Archers' backs.
Quick Questions: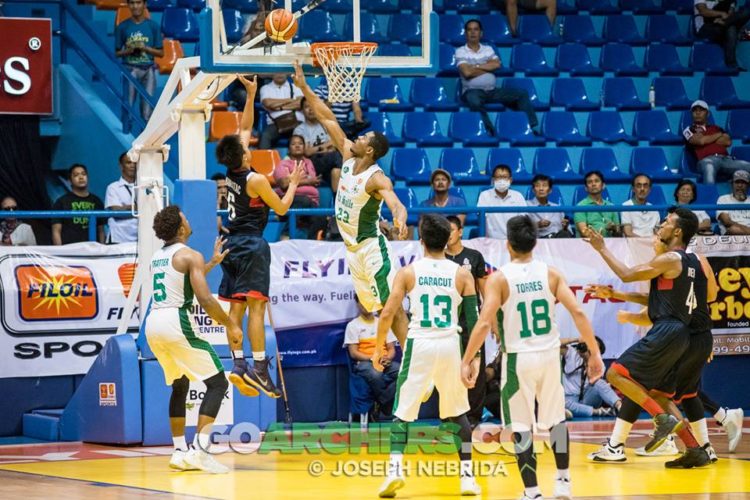 1. What are some of the weaknesses of this team that need to be addressed?
In the past few years, if La Salle's offense sputtered, they could always turn to their defense to bring them back into a game and carry them to a win. However, that wasn't the case in Season 78, as their opponents scored buckets almost at will, especially during their the second round, where they compiled a measly 2-5 record. Part of that was due to the lack of a rim protector, with 6-foot-3 Prince Rivero even being forced to play center at times. But with the arrival of Mbala, who aver-aged 2.4 blocks in the Fil-Oil Cup and was hailed as the Best Defensive Player in the tournament, and with the team employing a relentless trapping defense, their defense will no doubt improve.
Mbala, however, cannot do everything on the defensive end, especially when it comes to defending opposing guards, which is one of only a few negatives in their otherwise impressive preseason campaign. In the Fil-Oil Finals, Arellano's backcourt of Jiovanni Jalalon and Kent Salado scored 32 and 16 points, respectively, against La Salle's guards, while in the semifinals, it was Ateneo's Aaron Black who scored 24 points. The return of Julian Sargent will help shore up the team's perimeter defense, but the team's other guards also need to step up on defense.
Three-point shooting has also been a problem that hounded the Archers throughout Season 78, with the team ranking 7th in thee-point shooting percentage. If Torres, Montalbo, Caracut, Go, Melecio can consistently knock down three-pointers and help space the floor, then it will help make life easier for the team's slashers and big men.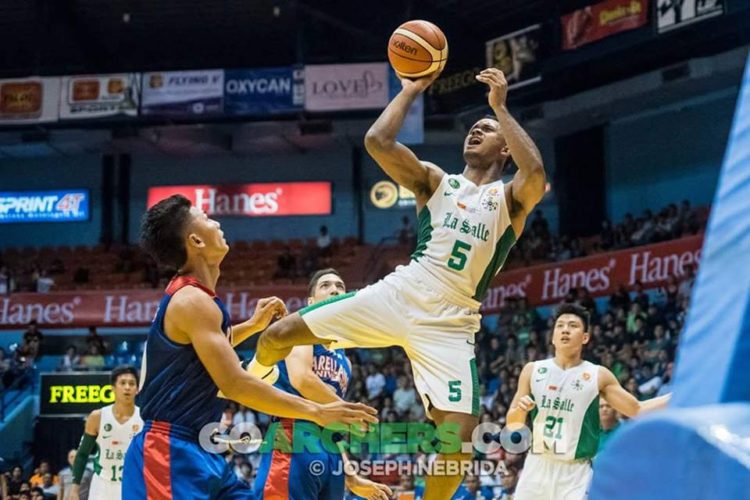 2. Aside from Jeron Teng and Ben Mbala, who are some of the players that fans should watch out for?
A lot was expected from Abu Tratter last season after the departure of guys like Norbert Torres, Yutien Andrada, and Arnold Van Opstal decimated La Salle's frontline, but he struggled throughout the season and couldn't get into a rhythm. But the addition of Mbala seems to have rejuvenated Tratter, as he put up 9.8 points and 6.7 rebounds per game in the Fil-Oil Preseason Cup, where he was adjudged as a Mythical Five member.
In the semifinals against Ateneo, with Jeron Teng playing limited minutes due to a sprained left ankle, Tratter put up 14 points and eight boards, and amassed a double-double of 13 points and 11 rebounds against Arellano in the Finals. If he can be a steady contributor for the Archers on offense and on the glass, it will greatly help in making things easier for Mbala.
Thomas Torres is also coming off a sub-par Season 78 campaign, and will look to redeem himself in his final season. He paced the Archers during their semis game against the Blue Eagles, scoring 17 points built on two triples. La Salle will need him to hit three-pointers and to hit them consistently (the same can be said for the team's other shooters) to break the zone defense that opposing teams will inevitably employ against them.
Jason Perkins and Julian Sargent are other Archers who will don the Green-and-White for the last time, and they will likely try to go out with a bang. Perkins had an up-and-down Season 78, while Sargent was sidelined during the latter part of the season due to injury. If these two can make significant contributions for the Archers, it will not only help their team get a championship, but can also boost their respective stocks once they turn pro.
3. Which teams that could challenge the Archers for the title?
La Salle's very first opponent in Season 79 could actually be one of their challengers for the title: the FEU Tamaraws, who eliminated them from title contention in the past two seasons. Now, a team that had just lost six veterans and was defeated handily by the Archers in the preseason may not seem intimidating to some, but this team still has veterans from last year's title-winning team like Raymar Jose, Monbert Arong, Ken Holmqvist, and Richard Escoto, plus head coach Nash Racela.
The Blue Eagles may have lost a lot of players due to graduation and academic issues, but they remain a Final Four contender thanks to the likes of Thirdy Ravena, Aaron Black, Adrian Wong, and rookie Jolo Mendoza. Of course, having Gilas Pilipinas head coach Tab Baldwin as the team's head honcho (he's officially listed as the team's consultant, with Sandy Arespacochaga listed as the team's coach) certainly doesn't hurt either.
Other teams that will also likely be in the thick of the Final Four race are the NU Bulldogs and the Adamson Falcons. The Bulldogs will still have center Alfred Aroga and remnants of their title-winning 2014 squad, along with an intriguing host of rookies and transferees, and, of course, head coach Eric Altamirano, who is currently the longest-tenured head coach in the UAAP. The Falcons, meanwhile, have a young core led by Papi Sarr, JD Tungcab, and rookies Jerrick Ahanmisi and Robbie Manalang, but are mentored by Franz Pumaren, one of the best minds in college basketball.
Outlook:
During the UAAP Press Conference, every coach was asked about the title contenders in Season 79, and it can be summarized in this statement: Every school picked La Salle, except La Salle. And it's easy to see why.
The Archers have Ben Mbala, arguably the best foreign collegiate player right now. Jeron Teng will likely be an MVP candidate, while Thomas Torres, Jason Perkins, and Julian Sargent will all try to end their careers with a UAAP championship. The team has a good mix of veterans and talented young guns, and is mentored by a coach with a proven system who is fresh from leading the Letran Knights to the NCAA Championship.
However, the last time everyone predicted La Salle to easily walk away with the championship, their season ended with heartbreak courtesy of a Mac Belo three. Some comparisons can actually be drawn between this team and that ill-fated 2014 team, and they can learn an important lesson from that squad, which is to start strong. Two years ago, the Archers stumbled out of the gates, losing their first two games to FEU and Ateneo. They eventually regained their bearings and won sev-en straight games, but crucial losses to FEU in the second round and in the playoff for second cost them a twice-to-beat advantage, which eventually led to the Mac Belo triple.
The immediate goal for the Archers would be to make the Final Four, and then secure a twice-to-beat edge, something that they were unable to do two years ago. The team, and especially their supporters, needs to take it a day and a game at a time. This is a tournament that could be over quickly, and, sometimes, it is important not only to relish the destination, but also the team's journey.
Ayo was able to guide Letran to the NCAA title, but he came into the team with not a lot of expectations. The situation now is the exact opposite, with almost everyone predicting La Salle to win the championship. But La Salle fans and supporters can take comfort in the fact that Ayo and the team is not only welcoming these expectations, but embracing them and using them as motivation.
It Begins Here: The Green Archers will play their first game in UAAP Season 79 against the defending champions, the FEU Tamaraws, this Wednesday, September 7, 4 p.m. at the Mall of Asia Arena.