Season 79 Summary: 13-1; 1st seed; defeated 4th-seeded Adamson in the Final Four; defeated 2nd-seeded Ateneo in the Finals.
Losses: Jeron Teng (graduation), Thomas Torres (graduation), Jason Perkins (graduation), Julian Sargent (graduation), Mark Dyke (transferred to FEU)
Additions: Gabe Capacio, Josh Gonzales, Leonard Santillan, Ramil Tero
Returning Players: Justine Baltazar, Andrei Caracut, Jollo Go, Ben Mbala, Aljun Melecio, Kib Montalbo, Brent Paraiso, Prince Rivero, Ricci Rivero, Abu Tratter
Background:
There was Ben Mbala's dunk off a Thomas Torres pass that was a little too strong. There was Ricci Rivero's two-handed reverse jam in transition. There were Jeron Teng's clutch baskets against Ateneo in the Finals. There was Kib Montalbo flustering an opposing point guard, forcing him to cough up the ball before he even crossed halfcourt. There were easy baskets, there were highlight plays, and there were blowouts. A lot of them.
And in the end, the Green Archers accomplished what many thought they would even before the season started: win the UAAP Championship. There were bumps on the road, sure, such as a loss in the second round against Ateneo that denied them of a sweep of the eliminations, and two tightly-contested games against the Blue Eagles in the Finals. But in the end, the team got to their destination, and gave fans a ride that will be one to remember.
From April until December last year, the Archers lost just once in both the Fil-Oil Preseason Cup and the UAAP. But that aura of invincibility was shattered right in their first game of the Fil-Oil Cup this May, when they narrowly lost to JRU in their opening game and struggled throughout the eliminations. The team later regained their bearings and marched all the way to the Finals, but lost to Robert Bolick and defending NCAA champion San Beda.
This season, the team will still run coach Aldin Ayo's patented 'Mayhem' system that proved to be a tough puzzle to solve for opponents. Ben Mbala will still score a lot of buckets, Aljun Melecio will still make three-pointers from the parking lot, and Ricci Rivero will still touch the sky before dropping dunks. But opponents have already seen all this during last year's run to the title, and will be ready for them.
The main difference between last year and this year, to quote Radiohead, is that there are no more surprises.
Questions:
1. The team just lost Jeron Teng, Jason Perkins, Thomas Torres, and Julian Sargent. Who will fill in the void left by these players?
30.9 points, 11.6 rebounds, and 5.7 assists. Those are the combined numbers of Teng, Perkins, Torres, and Sargent, who have all exhausted their playing years. That's not including the leadership and poise that they provide. Whenever the team was down by a basket, you knew that Teng would carry the team and make that all-important basket. Perkins, who has shown his full potential in the PBA D-League, was an important part of DLSU's 2013 championship run, and provided rebounding and tenacity. Torres was the team's starting point guard who was a relentless on-ball defender and was one of the team's emotional leaders, while Sargent was the team's best perimeter defender.
Their departures will surely be felt by the team, but the good thing is that the team has a lot of players who are ready to fill in their roles. Ricci Rivero was brilliant for the Archers in Season 79, but he played only sparingly, and was known more for his highlight plays. That won't be the case starting September 10, and Rivero has already shown that he could be one of the team's go-to guys in only his second year. In the Fil-Oil this year, Rivero flashed not just his vertical, but also an all-around game, averaging 14.6 points, 3.9 rebounds, 1.8 assists, and 2.4 steals and earning a Mythical Team selection (together with Mbala) at the end of the tournament.
Another Green Archer who looks to have a bigger role in the upcoming season is reigning Rookie of the Year Aljun Melecio, who averaged a modest 8.4 points, 2.4 rebounds, and 1.0 assist in 17 minutes of play during his rookie season, but has already emerged as one of the team's best players in the preseason.
But arguably the most important Green Archer this season outside of Mbala will be Kib Montalbo. The guard's all-around per game averages of 6.9 points, 2.6 rebounds, 3.0 assists, and 3.0 steals don't jump out, but he was the embodiment of Ayo's system an was responsible for forcing a lot of turnovers that led to a lot of easy baskets for the Archers. If Ayo came up with the recipe for the organized chaos of his 'Mayhem' system, Montalbo was the chef who cooked it to perfection, and his presence will be crucial if the Archers hope to repeat as champions.
3. What can we expect from the new players Santi Santillan, Gabe Capacio, Josh Gonzales, and Ramil Tero?
Four new faces will be joining the Green Archers in Season 80, but none of them will be wide-eyed rookies, as they are all transferees from different schools. Santillan transferred from University of the Visayas (UV), Capacio was a former Blue Eaglet, Gonzales first suited up for the UE Red Warriors, while Tero was from St. Claire before suiting up for the Green-and-White.
The 6'5'' Santillan received the most playing time among the team's new players, and he has rewarded Ayo's trust by emerging as a solid player during their run to the Fil-Oil Finals, norming 8.3 points, 7.5 rebounds, and 1.3 assists for the Archers. Santillan has not only shown a nose for the ball and can give the Archers multiple cracks at the basket, but has also proven that he can score inside the paint as well as from midrange.
Capacio, the son of the team's assistant Coach Glenn, has also received some playing time, and has also shown flashes of brilliance, though he will be sharing minutes with several other players. Gonzales and Tero, similarly, have also both played sparingly for the Archers in the preseason, though Gonzales' time with Derrick Pumaren and the Red Warriors have displayed his tenacity, while Tero also prefers a quick and physical style of play, making him a fit for Ayo's system.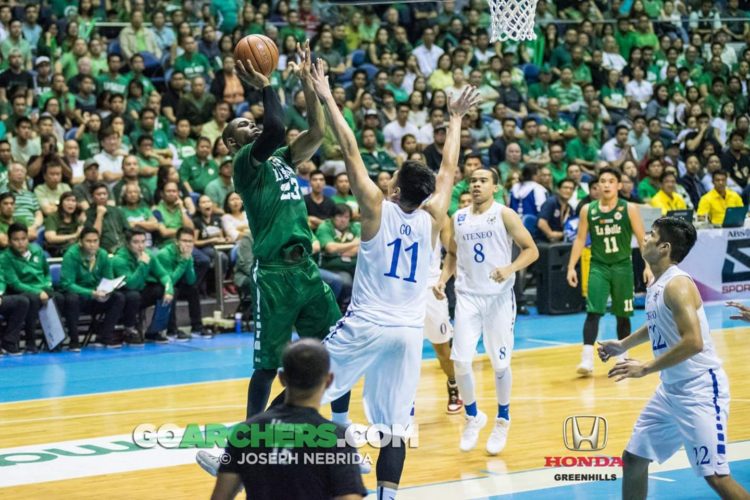 3. Which teams could challenge the Archers for the UAAP title?
During the Press Conference for the upcoming UAAP season, most coaches predicted that the title contenders will likely be the same teams that made the Final Four last season. And it's not hard to see why.
Ateneo reeled from the loss of seven of their players heading into Season 79, but former Gilas head coach Tab Baldwin was somehow able to steer them to the Finals despite no player averaging in double figures (Thirdy Ravena, the team's leading scorer, normed just 9.9 points per game). With his team's core intact and a talented crop of players like Tyler Tio, Gian Mamuyac, former LSGH stalwart Troy Malilin, and BJ Andrade coming in, they look to finish the task that they failed to complete last season.
We know that Franz Pumaren is one of the best collegiate coaches of all time, but seeing him restore the Adamson Falcons to its status as a contender in such a short amount of time was still a sight to behold. From a team that scored only 25 points in one game a few years ago, the young Falcons, led by Papi Sarr, Jerrick Ahanmisi and Robbie Manalang, marched all the way to the Final Four before yielding to the Archers. With most of the team returning and players like the high-flying Tyus Hill joining the Falcons, it wouldn't be surprising to see the team match – or even exceed – the heights that they reached last season.
One Ron Dennison lay-up. That was the difference between the FEU Tamaraws and a matchup against the Green Archers in the UAAP Finals last season. Now, new head coach Olsen Racela will try to build on the success of his brother Nash, and will have talented players at his disposal, such as former Blue Eagles Arvin Tolentino and Hubert Cani, along with former Southwestern University (SWU) player Jasper Parker and preseason standout RJ Ramirez.
A team that could throw a monkey wrench into everyone's predictions, however, is the NU Bulldogs, who will now be mentored by former San Beda head coach Jamike Jarin. JJ Alejandro and the remnants of their title-winning 2014 team will still be there, and they will be joined by holdovers like Matt Salem and Matthew Aquino, along with promising newcomers like Issa Gaye, Jonas Tibayan, and Jordan Bartlett. There's certainly a lot of talent here, and if they mesh together quickly under Jarin, then it wouldn't be surprising to see them punch a ticket to the semifinals.
Outlook:
The Green Archers were arguably the deepest team in the UAAP last season, with reserves who could easily start for other teams. That depth, however, was rarely needed, with veterans like Teng, Torres, Perkins, and Sargent riding to save the day whenever the team needed a crucial basket, rebound, or a defensive stop. This year, however, all eyes will be riveted on the team's young players, who will be thrust into the spotlight after the departure of their veterans.
Ben Mbala is set to sit out the Archers' first two games against FEU this Sunday and against NU on September 16 due to his commitment to Cameroon in the Afrobasket 2017 tournament, while Montalbo could also be out during the team's opening game against the Tamaraws. That leaves
the team in the hands of young players like Rivero, Melecio, and Andrei Caracut. These three players have already shown that they can take over games in the preseason, but a brilliant showing in a preseason game is still different from a UAAP game played on national television, and it remains to be seen whether their promise will translate when the season starts.
Despite the highlight plays and blowouts last season, there were games last season when La Salle would start out slow or take its foot off the gas pedal once it had zoomed out to a large lead. That team had a large margin for error due to its amount of talent and the presence of several veterans. This team's room for error, however, will be much smaller.
The absence of Mbala and Montalbo will be felt, but the rest of the team needs to step up, as the worst case scenario would be a 0-2 record by the time that Big Ben returns and the team is at its full strength. As before, the immediate goal would be to pile up as many wins to make the Final Four and eventually secure a twice-to-beat advantage, as this season is shaping up to be much more competitive than Season 79.
The team still has all the tools that it needs to repeat as champions for the first time since the days of Renren Ritualo, Mike Cortez, and Mac Cardona, but its important for the young players to immediately grasp and flourish in their respective roles. The system is still in place. The talent is still there. All that's left is for the young guns to show that their time has come.
The Road to the Repeat: The Green Archers will begin their quest for back-to-back UAAP titles against the FEU Tamaraws, this Sunday, September 10, 4 p.m. at the Mall of Asia Arena.