In the aftermath of the successful defense of the UAAP Women's Football Title UAAP Season 80, DLSU striker Kyra Dimaandal captioned her Instagram post with an except from the Alma Mater Hymn.
"We'll fight to keep your glory bright."
View this post on Instagram

We'll fight to keep your glory bright. ? 24h after, Im still tearing up. Extremely proud of these girls! From 21 to 16 players in a span of 2 months, playing positions they've never played before, getting injuries and trying to ignore them, and going the extra mile even when the road seems to go no further… The heart of a champion ? To Nicole and Kyla, maraming salamat. All the best. ? #Back2Back #StartStrong #FinishStronger #LabanLasalleYan #KayaMoYan 4/5/18 2nd UAAP Championship ?
It is a good verse to sum up the 22 year-old Davaoeña's journey in Taft. Having experienced ups and downs throughout her stay in Taft, Dimaandal has grown wise enough to know the difference between success and failure. That's why it should not come as a surprise that the responsibility of leading the team now falls on her shoulders.
Before she begins her final year of representing DLSU on the pitch, the women's football team captain took a bit of her time to chat with GoArchers regarding her outlook on Season 81.
How has preseason been for the team?
It's been good 'cause we've been able to adjust and see what we needed to improve on. It was also a good way to see the strengths and weaknesses of each other and build our team from that.
How are you adjusting to your role for the upcoming season?
It's been a hard pre-season since I'm graduating soon and that means less time for academic adjustments because of more demanding subjects. So far it's been difficult but my teammates are always there for me to teach me and let me know what adjustments were made. They also let me know of my mistakes which is good cause I hate letting them down.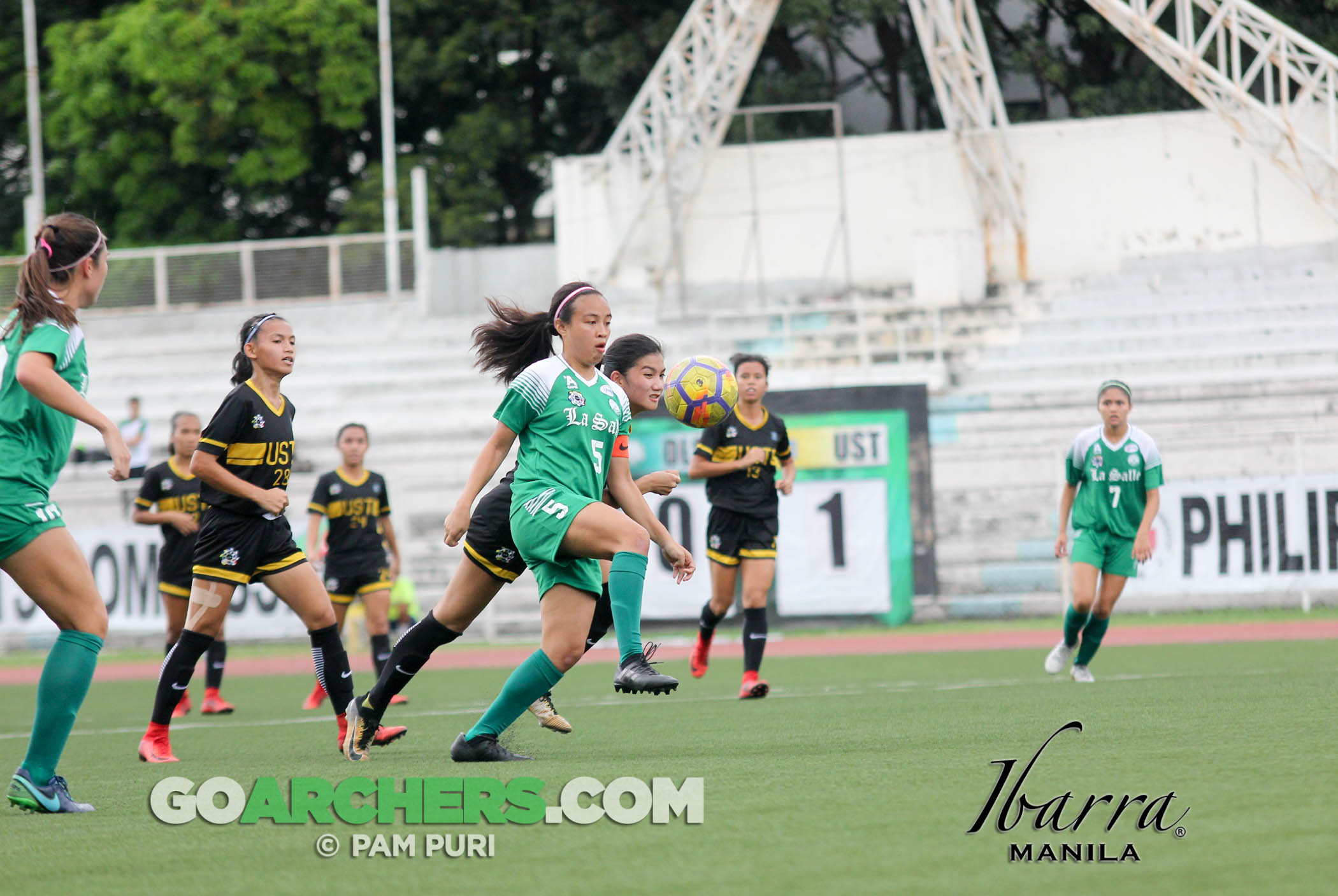 How are you adjusting to life as a rookie/senior/captain and how do you contribute to the team on and off the pitch?
Everyone thinks being the captain is a luxury and a personal achievement to be awarded with it, but it's not. The responsibilities of handling people in your age but acting like 10 years older to keep everyone in order is tiring and sometimes makes you wanna give up but at the same time you know you won't because you have faith in your team and the system you're in. I guess my contribution would just be to keep ourselves grounded and focused on and off the field.
What are the factors from last season that can be improved for this year?
Fitness. Last year we had injuries during the season and a lot more towards the end. This year we try to keep everyone in good condition.
How is the team handling the pressure of winning a third straight championship? Is it the main goal for this season?
The main goal is to get the championship. Just game after game, one step at a time. Defending the title was great but it's in the past and now we just want to focus on becoming "Season 81 Champions" rather than "three-peat Champions".
What are your personal objectives this year?
For football – Keep the title. Keep the girls motivated. Keep myself on the track. The last one is hard cause you only have yourself to remind and you have to check yourself from time to time.
For personal – know what to do for the next months without football and focusing on my career which most likely will be in the medical field, but am also thinking of research.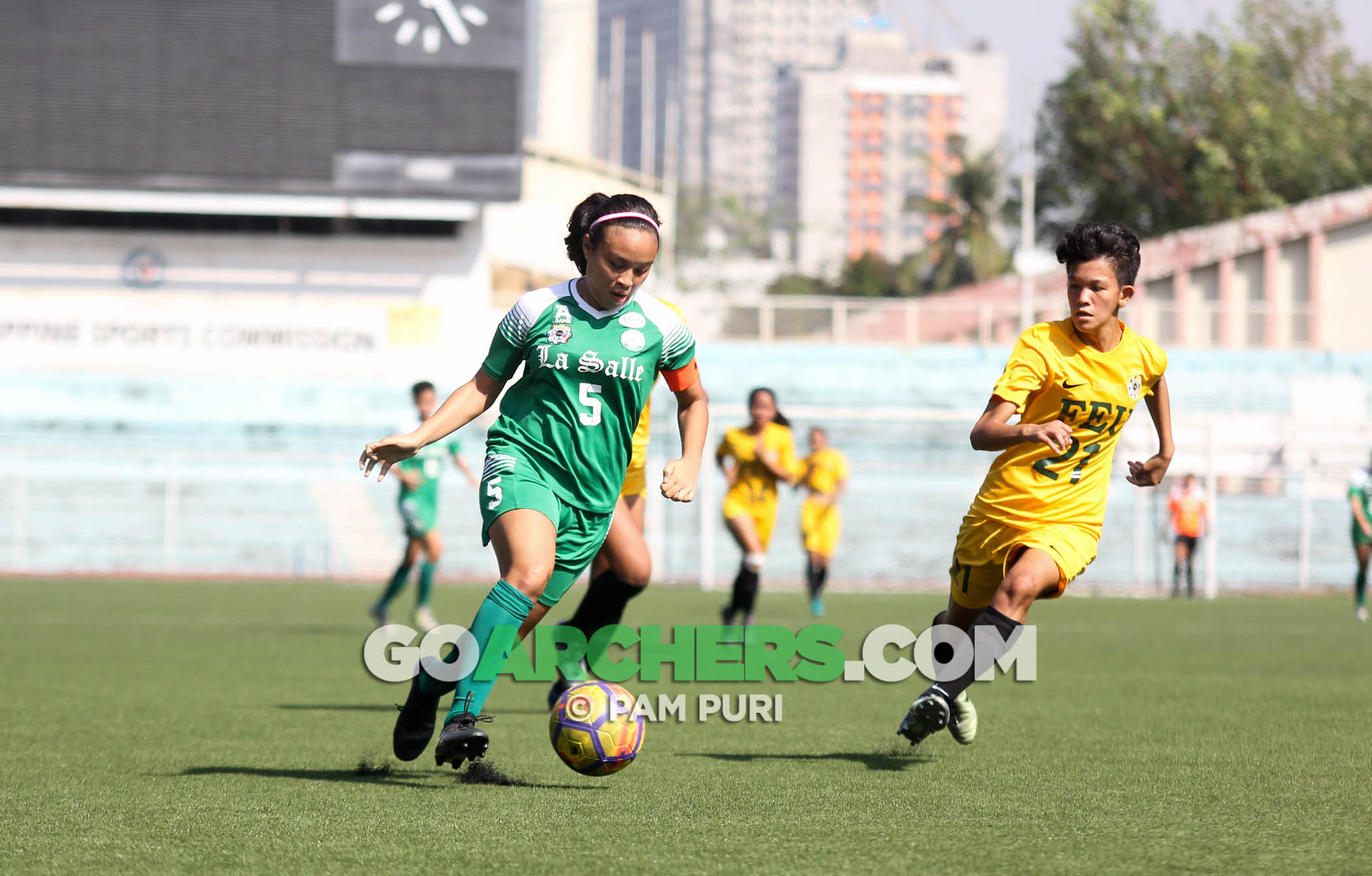 What's your message to the Lasallian community?
Your cheers and spirits pushed us for the past years and affected us so much more than we expected last year, if you recall. This season is no different. We need the Animo running and we need you to keep it running high. Each supporter is as important as each player on the field, and that's a fact. Please support us this season!
Witness Kyra and the rest of the De La Salle Women's Football Team begin their title defense against rivals Ateneo on Wednesday, 3pm, at Circulo Verde Pitch in Quezon City.