Entering the season, the Green Archers were the odds-on favorite to repeat as champions.
Despite LA Revilla foregoing his final year of eligibility to turn pro, the team remains intact led by Jeron Teng, Almond Vosotros, Jason Perkins and Norbert Torres. .
To add fuel to the title contention, the team was also back-stopped by noteworthy additions in Fil-Ams Julian Sargent and Abu Tratter, NCAA Juniors MVP Prince Rivero and Terrence Mustre. Veteran bigman Yutien Andrada also returned after missing all of last season due to a knee injury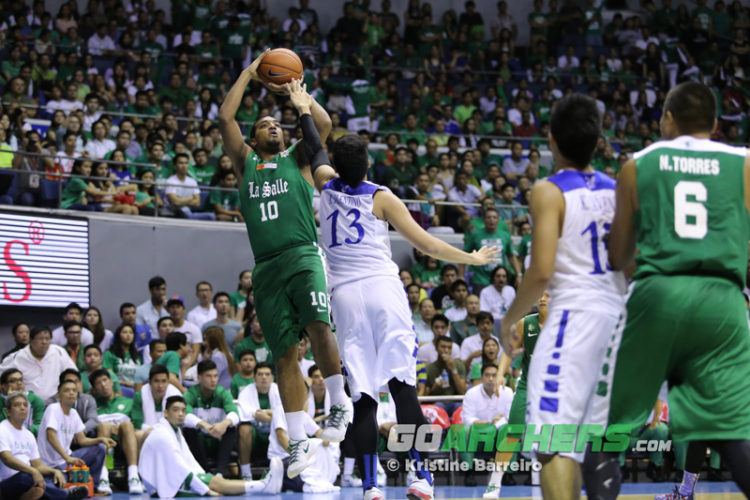 Unfortunately, things didn't turn out as planned as they dropped their first two assignments against FEU and Ateneo respectively. The Green Archers then found its composure and was able to string up 7 consecutive wins.
However, the late-game losses to FEU and UE in the second round proved costly very costly as they were not able to seal twice to beat edge in the Final 4.
Tied for second with an identical 10 – 4 slate, both FEU and DLSU were set to face each other in a virtual best-of-three showdown to enter the finals. The Tamaraws managed to win the first game 65-60 while the Green Archers bounced back hard with a 21-point win to arrange a winner-take-all match.
In the decider, both teams fought tooth and nail all game but a fourth quarter surge by DLSU enabled them to build some separation in the closing minutes. The Tamaraws though managed to turn things around down the stretch.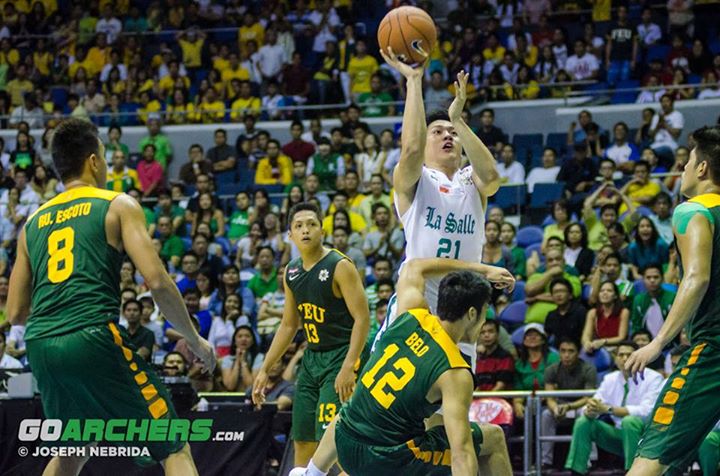 With the game tied at 64-all and 24 seconds left in the clock, FEU's Mac Belo hit a corner three to beat the buzzer and ultimately ended the Green Archers back-to-back aspirations. They settled for a third-place finish.
And to further add insult to injury, the eventual champion NU was not able to beat DLSU all season. Imagine how things could have turned out had they reached the finals. This is just one of the many "what if's" in the annals of Green Archers history.
Roster
Yutien Andrada
Almond Vosotros
Arnold Van Opstal
Norbert Torres
Jeron Teng
Thomas Torres
Jason Perkins
Kib Montalbo
Robert Bolick
Matt Salem
Julian Sargent
Abu Tratter
Terrence Mustre
Prince Rivero