After two heartbreaking seasons, the Green Archers left no stones unturned this time around as they aim to make 2016 their year.
Along with an intact core led by Jeron Teng, Jason Perkins, Thomas Torres and Andrei Caracut, the team finally got to have Ben Mbala in their fold after a three-year wait. Kib Montalbo also returned from injury and the team was able to pick up high school standouts Aljun Melecio, Justine Baltazar and Ricci Rivero.
But the most important change came at the head coaching position as they were able to snag Aldin Ayo, who steered Letran to the NCAA championship a year ago. The first non-alumnus to coach the Green Archers in almost three decades, Ayo brings a different philosophy that puts premium on hard-nosed defense and grind-it-out offense.
From start to finish, DLSU brought Mayhem to the entire league.
The team was a simply a juggernaut throughout the elimination round, thrashing teams by an average of 17 points. Except for that fluke loss to Ateneo in round two, they were simply unstoppable as they entered the final four on top with a 13-1 record, its best finish since 2002.
DLSU edged out Adamson in their semis showdown to enter the finals against the upstart Blue Eagles.
Game 1 turned out to be a close one as the Green Archers were one clutch shot away from losing it . The team made the adjustments in Game 2 as they took total control of the match en route to their 9th (should be 10 really) UAAP championship.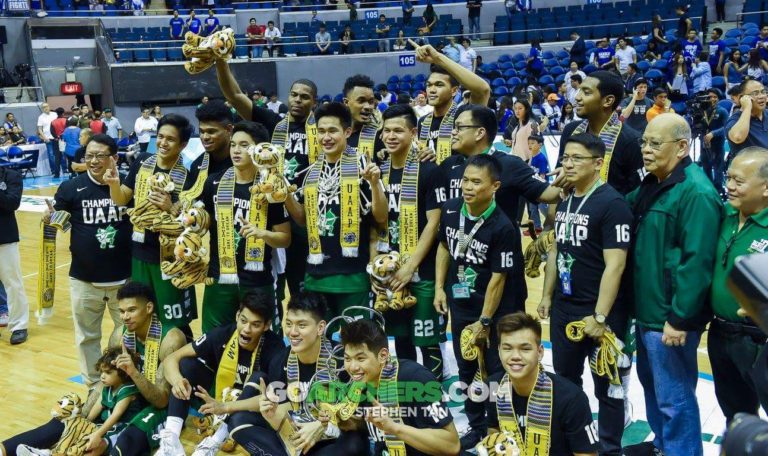 Mbala, a dominant force all-tournament long was named season MVP while Teng, playing in his final season for the Green Archers was awarded as the best player in the finals.
All in all, it was a truly a season to remember.
Roster
Jeron Teng
Thomas Torres
Jason Perkins
Julian Sargent
Abu Tratter
Prince Rivero
Andrei Caracut
Jollo Go
Kib Montalbo
Ben Mbala
Aljun Melecio
Justine Baltazar
Ricci Rivero
Mark Dyke
Brent Paraiso