"Gano'n talaga–dumarating naman sa isang team na kapag na-reach mo 'yung dulo, posible kang bumagsak. Hindi naman lahat ng panahon, nasa taas ka."
For the DLSU Lady Spikers, Season 82 of the UAAP began on May 5, 2019.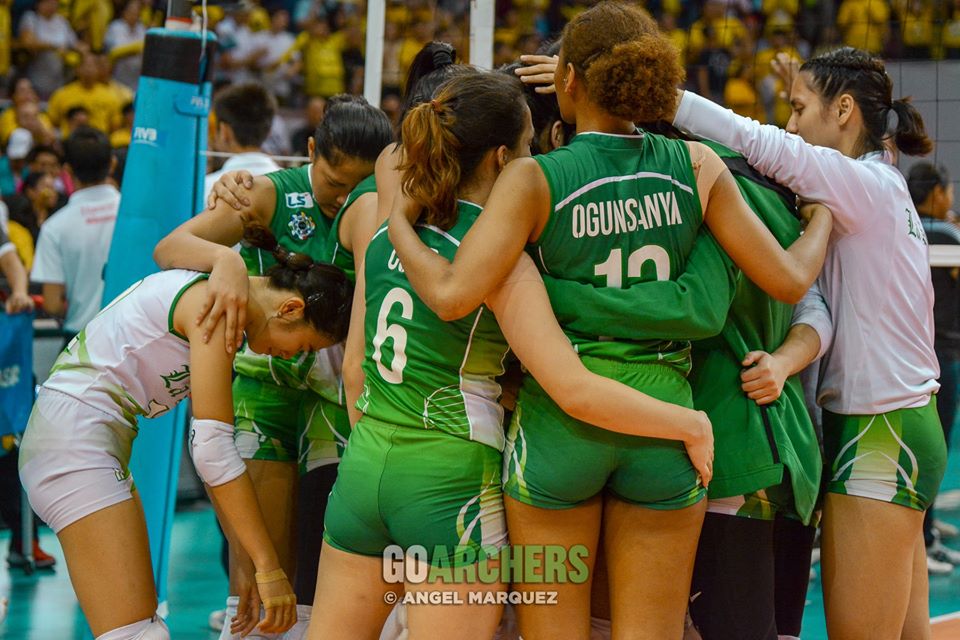 Ramil De Jesus was being interviewed in the bowels of the Mall of Asia Arena minutes after his team dropped a five-set thriller to UST which ended any hope of a fourth consecutive title. The 11-time champion coach managed to thank team captain Desiree Cheng for playing out her final year, saying that the Lady Spikers probably wouldn't have made the Final Four if not for her leadership. He sang praises to league MVP Sisi Rondina and Golden Tigresses Coach Kungfu Reyes, who in turn called him a "living legend in Philippine volleyball."
From the tears of the players to the tone of the post-game interviews, the disappointment was palpable, and for good reason: A decade that saw La Salle win six championships while producing some of the best volleyball players in the country ended in unfamiliar territory: crashing out in the Final Four and missing the Finals.
Despite the disappointment, however, De Jesus was able to put the past season in perspective, a year that saw the Lady Spikers finish third in the elimination round and miss the UAAP Finals for the first time since Season 70. There is always the possibility of failure. You can't always be on top.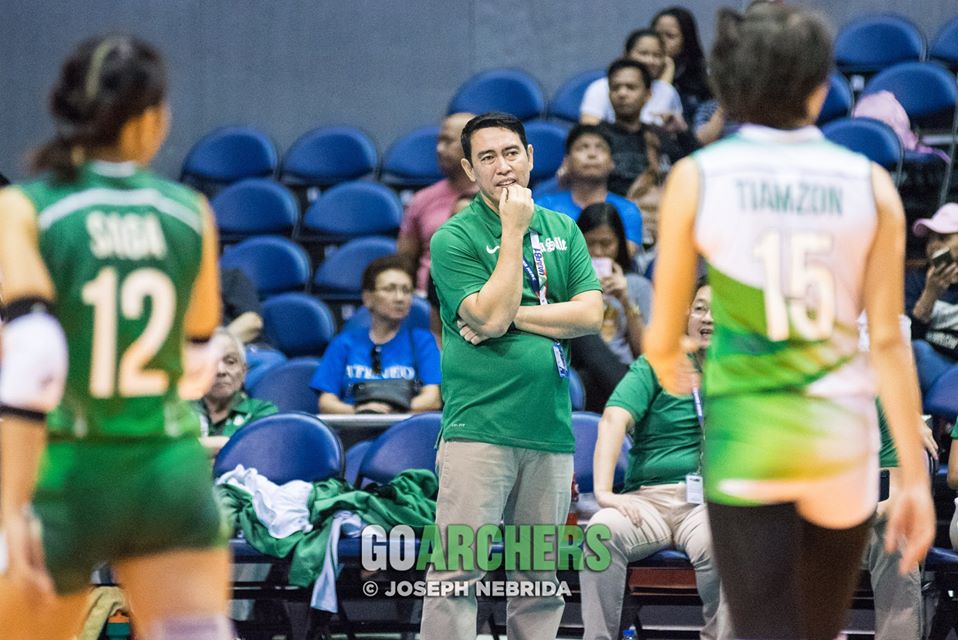 And he understood that with the departure of some of their players, the next season will once again be a challenge for a program that has made a habit out of winning in the last decade. After admitting the difficulties the team encountered during the season, De Jesus, who will be entering his 23rd year as La Salle's head coach, issued a challenge to the team's new recruits:
"After naming ma-realize na mahirap nga, nagsimula na kaming mag-recruit agad. Sana 'yung nakita nila this season, hindi maging rason para panghinaan sila ng loob, at makita nila na kailangan nilang mag-excel para iangat 'yung team sa mga susunod na UAAP seasons."
Even then, he understood that the climb back to the top will be difficult, and that if they were to succeed, they will rely on their youth. And almost a year after their Final Four defeat, La Salle fans and the rest of the UAAP will have a chance to see if the team's young players can respond to his challenge.
Outlook:
The recruitment De Jesus was referring to has produced a crop of talented players that are ready to join team captain Aduke Ogunsanya and veterans Tin Tiamzon, Michelle Cobb, and CJ Saga, as well as sophomores Jolina Dela Cruz and Marionne Alba. The team will be parading eight rookies, which is probably unusual to some who are accustomed to seeing the team's roster filled with battle-tested veterans.
Among them is 6-foot-2 Thea Gagate, a former Best Middle Blocker from her days with the NU-Nazareth School, 5-foot-11 middle blocker Fifi Sharma from FEU-Diliman, as well as a couple of homegrown players from DLSZ in 6-foot opposite hitter Leila Cruz and libero Justine Jazareno, the Finals MVP of the UAAP Season 81 girls' tournament.
Ogunsanya, Tiamzon, and the team's veterans will need to lead by example following the departures of Cheng, Des Clemente, and May Luna and Norielle Ipac, who both chose to forego their final year of eligibility. Dela Cruz, in particular, will be thrust in a bigger role after a stellar rookie season that saw her lead the Lady Spikers in scoring.
But despite a good showing from Dela Cruz, there were times last season when the team was unable to produce points when needed, especially during their playoff battles against the Tigresses. This year, the task falls on their veterans to answer this challenge.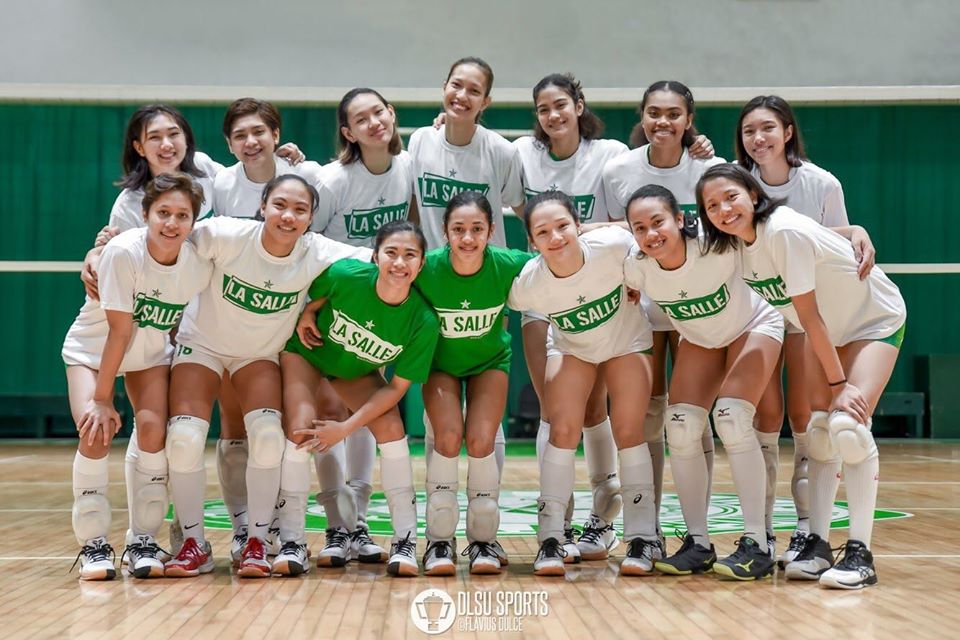 But as good as the team's holdovers are, much of the team's success will be decided by the rookies and how quickly they can adjust to their roles. Can Gagate and Cruz continue their success at the seniors level? How quickly can Jazareno adjust to her shift to libero? Can their other rookies crack the rotation? De Jesus already revealed his hand during the team's run to the UniGames title in Iloilo last October, when it was Gagate and Cruz who joined forces with Dela Cruz and Tiamzon to beat the CSB Lady Blazers in the title game, but whether it will translate to the UAAP remains to be seen.
There's a reason why De Jesus specifically challenged his new recruits moments after their most disappointing season in the last decade. The La Salle coach already had his eyes on the future and knew even then that for his team to return to the top, the team's young players will need to do a lot of the lifting.
Redemption Begins Here: The Lady Spikers begin Season 82 with a clash against defending champion Ateneo this Saturday, March 7, 4:00 p.m. at the Mall of Asia Arena.
4️⃣ Vets
2️⃣ Sophs
8️⃣ Rooks
1️⃣ Goal ?

The Squad ? #ArrowsUp ? pic.twitter.com/w0qJG4A8p7

— Go Archers (@GoArchers) February 10, 2020
Season 81 Summary: 10-4; 3rd place; finished third in the elimination round; lost to UST in playoff for second twice-to-beat advantage; lost to UST in Final Four to miss the UAAP Finals for the first time since Season 70.
Additions: Alister Borabo, Julia Coronel, Leila Cruz, Marite Espina, Thea Gagate, Justine Jazareno, Fifi Sharma, Baby Jane Soreno
Key Departures: Desiree Cheng, Des Clemente, May Luna, Rovena Instrella, Norielle Ipac
Holdovers: Marionne Alba, Michelle Cobb, Jolina Dela Cruz, Aduke Ogunsanya (team captain), CJ Saga, Tin Tiamzon