If you squint your eyes a little bit yesterday, you could see glimpses of past La Salle greats in the way the Lady Spikers moved and decimated the Ateneo Lady Eagles at the Mall of Asia Arena.
There was 6'2 Thea Gagate channeling her inner Jacq Alarca, Mika Reyes, and Majoy Baron and winding up with 10 points, five coming off kill blocks. Opposite spiker Leila Cruz's approach on offense reminds fans and supporters of another La Salle-Zobel alumnae in Kim Kianna Dy.
Baby Jyne Soreño, the lefty who produced eight points off the bench, is in the mold of a Carol Cerveza. A "magic bunot" that coach Ramil de Jesus can count on to provide instant offense.
Justine Jazareno, meanwhile, showed flashes of brilliance, reminiscent of our past liberos in Melissa Gohing and Dawn Macandili. The former UAAP juniors finals MVP tallied a game-high 14 digs.
All four are part of this year's crack batch of eight rookies that not only aims to give fresh blood to the La Salle seniors volleyball team but also seeks to put the Lady Spikers back into the finals after missing out last year.
The fab four are skilled and even taller than their previous counterparts. But one notable advantage going for them is that, because of the K-12 basic education program, most of them have been ingrained with the Lady Spikers system for several years now.
Imagine being trained and molded by coach Ramil and his staff to look, play, and execute the way past generations of Lady Spikers have for the past 23 years; a system that has so far produced 11 UAAP championships.
A defense-first mentality: 10-6 edge in blocks, 32-14 advantage in reception and a balanced attack wherein five players scored eight or more points is just the right formula that the team needs to jumpstart its redemption bid.
Leadership
Aside from tall, lean, and talented players, La Salle is also known to produce high quality leaders who personify RDJ inside the court. Senior Tin Tiamzon, who put together a triple-double of 17 points, 12 digs, and 13 receives, is the next senior "ate" in the long line of DLSU greats.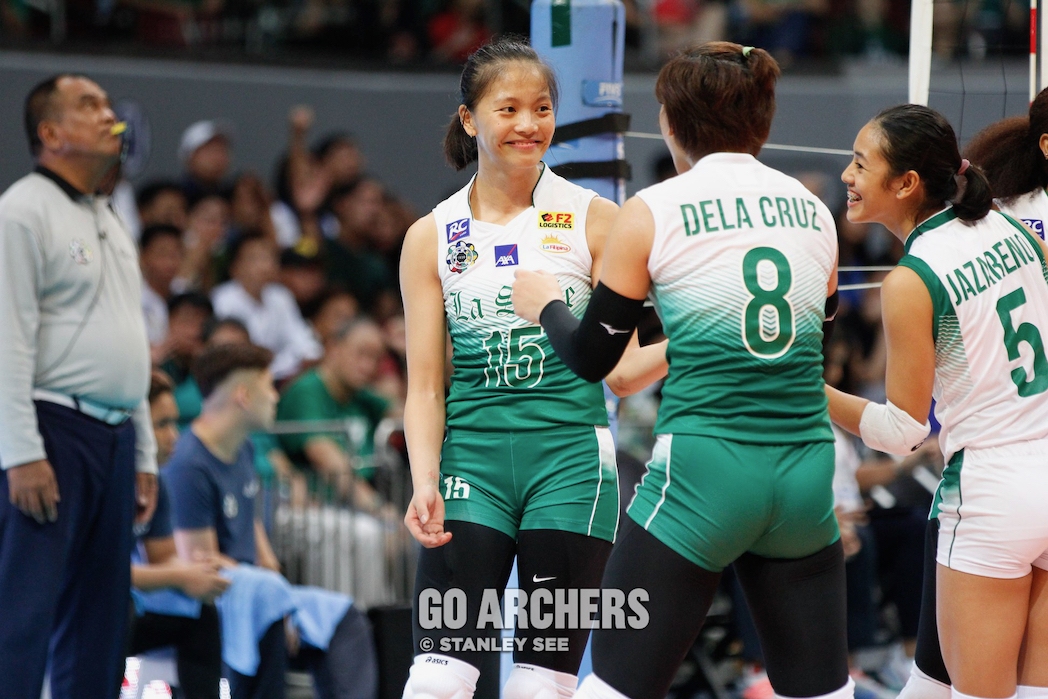 Together with team captain Aduke Ogunsanya, the two super-seniors provided the experience, guidance, and direction that the team's rookies needed in a match in front of 12,907 screaming fans.
Room for improvement
Opening day jitters and playing in a large venue with a boisterous crowd certainly played big roles in La Salle committing an eye-popping 33 errors.
"Nagkaroon ng first-game jitters pero nakita naman natin na kahit mga bata yung players namin, na (minsan) nakikita mong nawawala, nakakabalik din," explained de Jesus.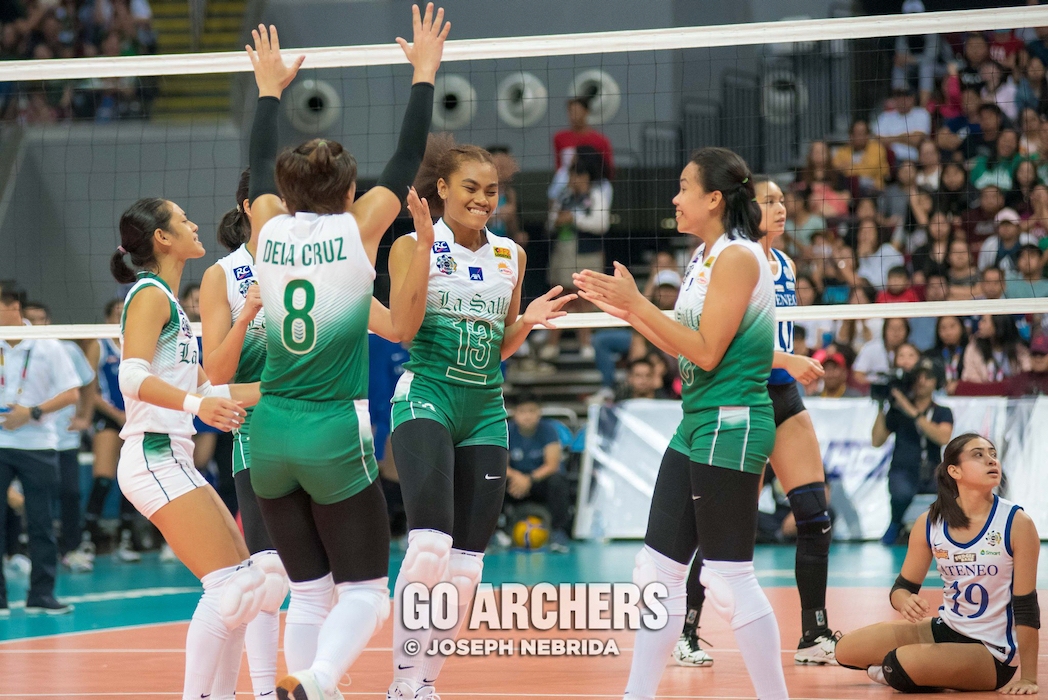 The Lady Spikers committed 10, 9, and 11 miscues in the first three sets but cleaned their act in the fourth frame to notch win number 1 in UAAP Season 82 and stretch their winning streak against Ateneo to five games. While they may look spectacular yesterday, expect the girls to polish their offense and defense in the next few games.
DLSU will next face the UP Lady Maroons on Tuesday, March 10, also at the MoA Arena. It is the same Katipunan-based team that coach Ramil de Jesus and his squad failed to beat in two games last season, so expect an even more inspired performance by the Lady Spikers.
Animo La Salle!