Contributed by Absolut Verde
PART ONE  | PART TWO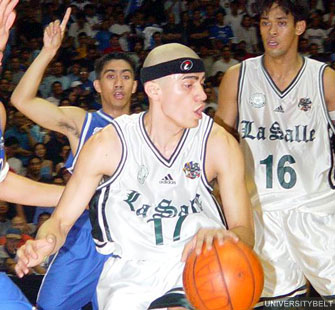 5. Cardona's Rookie of the Year Award, 2001
Nobody had heard of the walk-in with the wiry frame and funny-looking crew cut on the opening day of Season 64 against Ateneo, but by the end of the first round he was a marked man. Before it was over, Cardona was a Fil-Am and then he wasn't, transcripts were fake and then they weren't, two years and three months wasn't three years, and then it was.
When it was finally over, it was nice seeing Mac-Mac receive the ROY award from the gentleman himself. Life – always look on the bright side, eh?
4. The sweep that never was, 1990
Limpot, Locsin, Cardel, Viaplana, Monasterio, Abanilla, Lago, Bachmann, the rest at the ready. The only thing better than the reality was the possibility. What if there had been no Locsin witch-hunt? What if those three games hadn't been forfeited? What if a couple of them had studied harder the next season? What if Derek Pumaren had stayed on longer? We're all friends here, so here's some friendly advice from your Uncle AV: if we older fans ever seem a bit too smug for you, don't blame the four-peat years. Blame the 1990 La Salle Green Archers.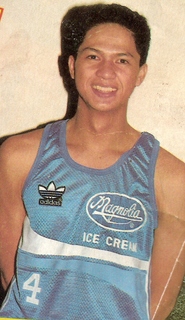 3. Limpot's three MVP Awards, 1989, 1990, 1992
It could have been four – no shame in finishing second to Johnny Abarrientos that odd year. How truly spoilt we've been: Mark Telan and Don Allado, both two-time MVPs, Ren-Ren Ritualo, Mac-Mac Cardona, JV Casio and Cholo Villanueva all Finals MVPs, to go with numerous other Arqueros Verdes who over the years have left us hoarse, grateful and wasted. But Limpot reigned over all he surveyed, with a majesty not seen since.
But that's the thing about that first great Green Archers team. You could be a three-time MVP, four-time Mythical Five member, all-time all-UAAP basketball legend, but to Field Marshal Frederick Pumaren, you wouldn't be The Main Man. You'd just be El Tsimoy because you kept trying that Ramon Fernandez elegant shot in practice instead of taking it strong to the hoop like he told you to.
2. Thanks 4 the Memories, 2001
If you're going to do a four-peat, here's how to do it properly: first you arrive when your alma mater's just lost four straight Finals. Then you win the championship on your first go, dethroning the defending champions. The next year, you visit royal pontifical retribution upon the team everyone said your boys were scared of, while giving the league possibly the greatest Final it's ever witnessed. Then you win a third straight against the team that robbed your older brother of his own three-peat, and dedicate it to him and his boys. You cap it off with a fourth against the biggest prey of the lot, the one that deprived your younger brother of a chance to end his varsity years as a champion, and you do it down 11 at the half, your Rookie of the Year playing with what turns out to be dengue, making sure another King Archer can have his number retired, and so that we who were there will now have to convince an entire generation of sons named Fernando and Florendo and Don Carlos and Ramon and Cool Cat, who are now in their teens and share birthdays in July, that it all, we swear, it all really happened.
But how the hell are they going to believe us?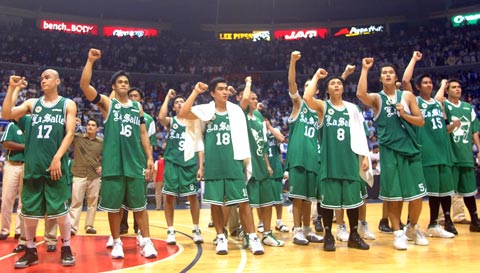 1. Returning the trophy and serving out the suspension, 2006
The slide's blank. Even now it's tough to talk about, mostly because of what the eligibility scandal cost all our other athletes. But disclosing to the league was the right thing to do, and giving the trophy back was the right thing to do. Nine championships celebrated, 17 Finals appearances, not a single one taken for granted. But this is what I think of most when I sing the Alma Mater; the blemished stone you keep in a box full of treasures.