For a player who was expected to be the understudy to then-starter Denden Lazaro, DLSU star libero and current Philippine women's volleyball national team stand-out Dawn Macandili sure grabbed the perfect time to showcase what she is made of. Stepping into the shoes of Lazaro, who injured her hamstring during the Battle of the Rivals game, Dawn has been a steady force in Team Philippines' backline in the 2017 AVC Asian Women's Volleyball championship.
The UAAP Season 79 Best Receiver and Digger hardly made a dent during their straight sets 25-21, 25-16, 25-17 win against Hong Kong; Dawn had a team-leading but modest seven digs in the team's last Pool A assignment against Kazakhstan (23-25, 20-25, 19-25) and an even quieter four-dig showing as the Philippines absorbed back-to-back loses courtesy of world no. 10 South Korea, 23-25, 18-25, 12-25.
Matched-up against perennial Southeast Asia (SEA) contender Vietnam, the real play and "world-class" abilities of the 2016 Philippine Superliga (PSL) All-Filipino MVP were finally on full display at the Alonte Sports Arena. Diving, putting her body on the line, and being a pest against Vietnam's attackers were just all in a day's work for the player known as "Ms. Everywhere", accounting for more than half (19) of the team's 32 total digs and registering 12 excellent receptions.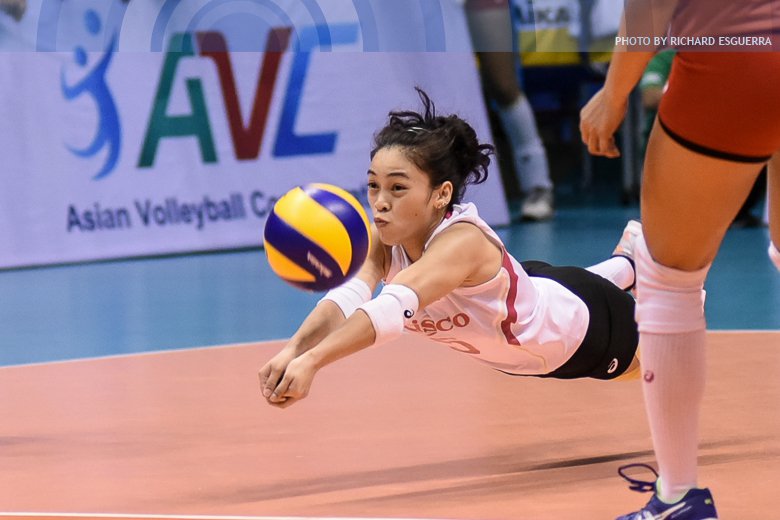 Against SEA powerhouse Thailand during the yesterday's quarterfinals, Macandili was again coach Francis Vicente's rock at the backline, delivering 19 excellent digs and seven excellent receptions in a spirited but disappointing 21-25, 14-25, 20-25 loss against their regional rivals.
For a team that features 6'5 Jaja Santiago and high flying hitters Alyssa Valdez, Jovelyn Gonzaga, and Aiza Potillas, Dawn is slowly but surely being recognized and admired for her work as the Philippine six's defensive specialist.
"You will be a world-class player. Your play is at par with Japan," said (Okayama Seagulls coach Akiyoshi) Kawamoto before wrapping up his final training with the Philippine team. "Even the Seagulls are impressed with you. You just have to get rid of stiffness at the backline. Your stance should be bouncy," he added.
She has always been pride of the Lasallian community during the last four seasons that she has played in the collegiate and club ranks; now, Southeast Asian teams, as well as those from other parts of Asia, are now fully aware of what amazing plays and instant-replay highlights #15 is capable of displaying night-in and night-out.
Still official listed as a reserve in next week's SEA Games squad in Kuala Lumpur, I have a good hunch that Dawn's name and jersey would be one of the first seven players called when the team chases a podium finish in the biennial event. Macandili's club and international experience, together with fellow Lady Spiker Kim Kianna Dy, should of course bode well for the DLSU in Season 80 as the two-time defending UAAP champions aim for a three-peat.