As far as recruitment is concerned, collegiate teams are already starting to feel the impact of the K12 education system which was implemented a few years back. The result is that there are only very few top high school prospects available. Looking at the roster of the other teams, they either have just one or no player coming straight from high school.
For this season, the Green Archers have no real college freshman in their lineup. Knowing that there will be shortage of high school talent in the coming years, the team was able to recruit last year several college transferees. After doing residency, these guys are all ready to go and help the team in their UAAP title defense.
Leonard Santillan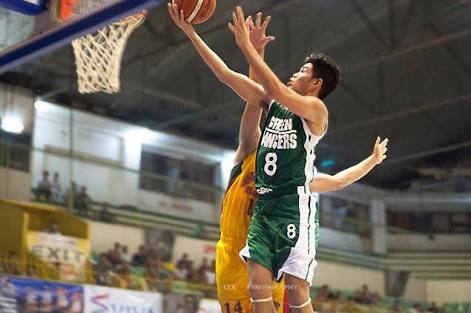 Among the newcomers, the 6'5 forward has the most impressive credentials having been part of the Under-18 Batang Gilas. He played 3 seasons for the University of Visayas Green Lancers in Cebu. In the preseason tournaments, he was part of the regular rotation of Coach Aldin Ayo. Santillan has so far delivered and is expected to fill-in the starting small forward position vacated by Jeron Teng.
Santi not only has hops, but he has good lateral quickness and a consistent shot from mid-range.
Joshua Gonzales
If you guys don't remember him, he had a very short stint with the UE Red Warriors in UAAP Season 78 wherein he played just 7 games at 43 total minutes of court action. A former Letran Squire back in high school, it is possible that Coach Aldin already had eyes on this player that's why he was able to have him move to La Salle.
In the few occasions we got to see him play, Gonzales is a combo guard/forward who specializes more on the defensive end.
Ramil Tero
The 5'7 guard previously played for St Clare College in Caloocan, a consistent contender in the NAASCU league. He adds toughness and grit in the backcourt.
Gabe Capacio
He will be the first Ateneo Blue Eaglet to play for the Green Archers since BJ Manalo back in 1999. After Team B stints with UP and Letran, he has finally found a home with La Salle and will get now get the chance to play varsity ball in the college ranks.
Just like his dad, current assistant coach and former PBA player Glenn Capacio, Gabe has a defensive mindset and an outside game to complement.
Gabe Capacio buzzer beater three!!

66-53 for the Green Archers after three quarters @gabecapacio pic.twitter.com/Qhs8Fij1U8

— GoArchers (@GoArchers) July 30, 2017
They may not be the high-profile recruits that most followers are expecting every year, but these guys are here not because of accolades or hype but they are a fit to the team's system. They embody what Mayhem is all about.
Main photo from TheLasallian