The Green Archers finished first-runner up in the recently-concluded Fil Oil tournament. The preseason gave us an early bird look at the team which decided to start things over once again. With all the new coaches and players that came in, you have to like for a fact that there isn't much hype or fanfare this time around. I think it's better that way.
Here are some takeaways from their games this past summer:
Return of Small Ball
With so much depth at the backcourt, there were times that the team had 4 guards on the floor. The strategy was to push the pace and get points from transition and fastbreak situations.
So is the team back to being a security agency? Something we have last seen in the latter part of the 2000's. Well in this age of positionless basketball, Small Ball has an upside.
We love to see their willingness to run and play uptempo at any given opportunity. On the defensive end, they don't do that much full-court trapping anymore and instead rely on their quickness to get a steal or force a turnover.
Of course there are still areas in their game that they need to work on especially their outside shooting. The Green Archers were hoisting a lot of three-balls but are only converting less that 25%.
Balti will have an MVP-type performance this year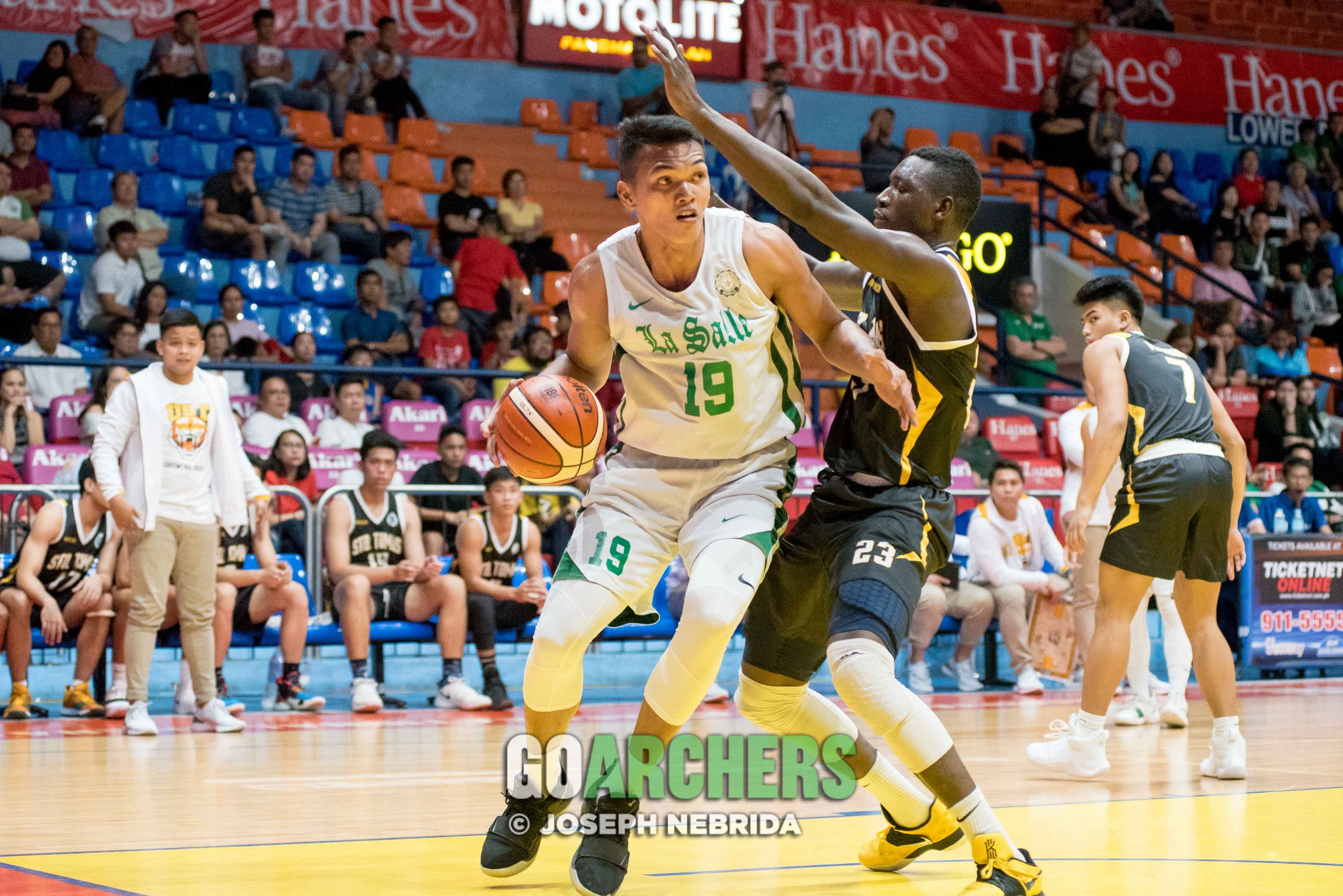 The rise of Justine Baltazar continues. He was a consistent double-double performer, was named best defensive player and earned a spot in the Mythical Selection. His stellar play all points to him following up on his career season last year with another career season.
A force on both ends of the floor – Balti is clearly the main man now. The team can only go as far as he will take them. And until now, we can't help but think how things would have went in UAAP 80 if Ben Mbala and Baltazar were paired together on the floor rather than serve as each other's backup.
They are a couple of bigs away from seriously competing for a UAAP title
It was not too long ago when the Green Archers had the tallest frontline in the league, a year ago to be exact. Now that Santi Santillan and Taane Samuel are no longer around, the team currently has only Baltazar and Brandon Bates standing above 6'4.
Bates will continue to be a serviceable bigman but for Balti, he will be more effective at the four-spot instead of matching-up against the opposing teams' center (most likely a foreigner). As much as he improved, Balti will have his hands full going head-on with the likes of Koaeme, Akhueti and the other tall African players coming in.
So the team won't be having a foreign-player this coming UAAP season. 6′ 11″ Amadou Ndiaye from Senegal will only come onboard in 2020. We were able to see him play early this year in those pocket tourneys in the provinces in which the Green Archers won and I can say that he will definitely play a big role in the team's campaign when the time comes.
But the most immediate concern facing La Salle is to have some more help in getting those rebounds and provide some added scoring down low. Having so gives them more options in the half court like sliding Balti at the wing causing mismatches given his versatility.
Fortunately for us, help appears to be on its way. Fil-Am Andrew Singson (6'5) has already arrived in the country and since he is coming in straight from high school, he can play for the Green Archers this season. As per reports, more players are expected to come in soon. No details are available as of yet but let's hope one of them is tall guy who can suit up right away.
This team is still a work in progress
Some might argue that the Green Archers' path to the FilOil  finals was easy. Ateneo did not join, UP pulled out in the middle of the tournament and playoff opponents Letran and LPU sustained injuries to their key players. Probably true but either way, making it to the finals with half of the team new is enough to give us some glimmer of hope that they can contend when the UAAP starts this September.
You have to like what we are seeing here – a noticeable improvement in the on-court skills and conditioning of the players, the proper execution of plays, we are seeing a system being developed. And if the reports I mentioned earlier are true, La Salle's UAAP roster is not yet set. More changes are expected to happen.
Overall, there is no denying that the new coaching staff have made significant steps to overhaul the team. Let us hope that this latest reboot will finally give us that sustained success we all aspire.
So at this point, all we can do now is wait and see what developments will take place in the next two months.