With the graduation of JV Casio, it was expected that Rico Maierhofer would be next in line as the Green Archers' new go-to-guy for the 2009 season. But surprisingly, he decided to forego his last year of eligibility to turn pro.
The team's hopes of reclaiming the title they lost the previous year took another major hit as incoming sophomore LA Revilla was sidelined due to health issues. After an impressive first season, Revilla was poised to take over from Casio as lead playmaker.
Despite the early setbacks, coach Franz Pumaren was able to stockpile talent from the juniors ranks as they added Arvie Bringas and Yutien Andrada from powerhouse San Sebastian, Joseph Marata and Joel Tolentino from Reedley/UPIS, Gabrial Banal from Xavier and Jed Manguera from De La Salle Zobel. The 6'5 Bringas was the most sought-after rookie in his batch,
With Maierhofer not returning, the team's fate suddenly rested on the shoulders of veterans James Mangahas, Peejay Barua, Bader Malabes and the returning Kish Co.
The Green Archers lost their first two games of the season but managed to get their act together and won four straight.
Their fourth win came at the expense of UST in double overtime. Bringas was instrumental in that match as he led the Green Archers with 21 points. Turns out that this was the team's last impressive performance of the season.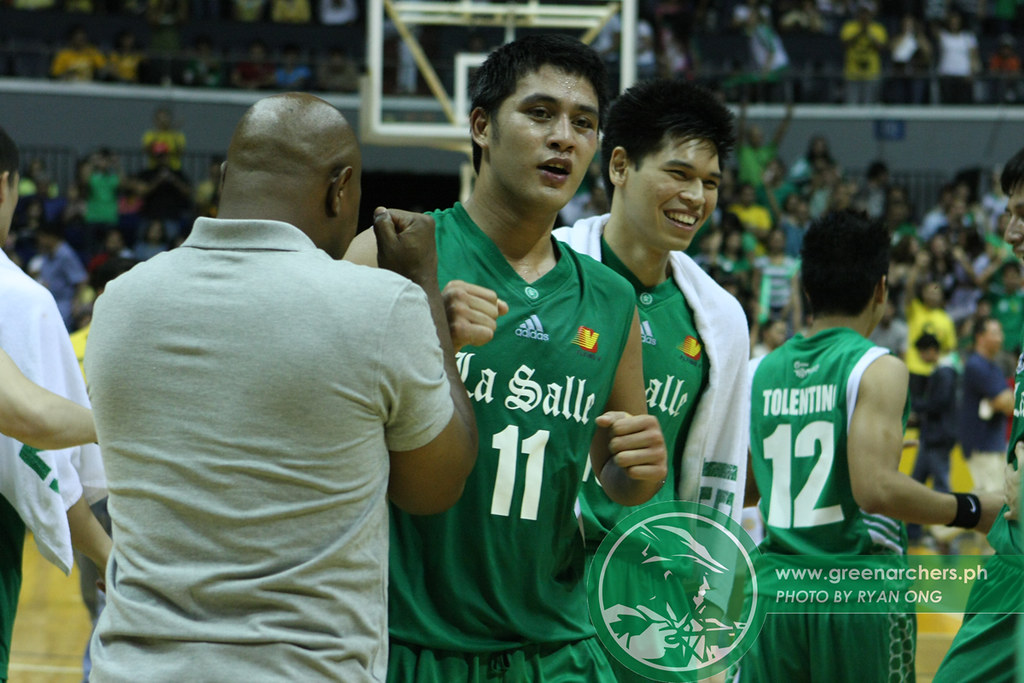 La Salle went on to drop 5 consecutive matches as they fell deep in the standings at 4-7. They finally stopped the bleeding by narrowly defeating UST once more.
In danger of missing the final four for the first time since its inception in 1994, the Green Archers found themselves in a must-win situation to force a playoff with two games left in the elimination round.
Even after a disappointing, two-point overtime loss to FEU, there was still a small window of opportunity for them to tie UST for the fourth seed. But alas, they still could not get it done, losing to lowly NU to end their campaign at 5-9. Not counting the won games between 2003 to 2005 that were later on forfeited, this was the Green Archers' lowest finish since 1986 – their first year in the UAAP.
Overall, it was the lack of overall experience and leadership that led to the team's downfall that season.
From being the most dominant team entering the new millennium, La Salle closed out the decade in heartbreaking fashion. This also brought to an end coach Franz's 11-year tenure with the team which has resulted to 5 championships.
It was a bitter end to a great run.
Roster
Simon Atkins
PJ Barua
Bader Malabes
Ferdinand
James Mangahas
Maui Villanueva
Hyram Bagatsing
Jovet Mendoza
Joshua Webb
Kish Co
Arvie Bringas
Joseph Marata
Joel Tolentino
Gabriel Banal
Jed Manguera
Yutien Andrada
UAAP Season Recaps:
2000s – 2000  | 2001 | 2002 | 2003 | 2004 | 2005 | 2006 | 2007 | 2008 | 2009