by Neal Tieng
(Special thanks to George Gonzales, team statistician during this golden era of La Salle basketball who gave very crucial insights relevant to this article. Salamat Tito George!)
The fireworks ushered in 2020 with every single Filipino was hoping for a better year. Starting a new year, a fresh decade, people usually try to cast off the bad vibes and disappointments of the past and look forward to what comes next, while resolving to learn from the past and do better.
Some things remained undone
But moving forward isn't always that simple. Some things that were left undone from last year carried over to the new decade. For example, the head coaching position of the DLSU Green Archers.
Other teams had been making moves right after the UAAP basketball season had ended. Every news item about another UAAP school felt like dabbing alcohol into a fresh wound.  Most green-blooded titos from every part of the country would always say, "buti pa sila, tayo nga wala pang coach".
And so the new decade rolled in amid fireworks, greetings, and fresh hope. But the coaching position remained vacant.
Soon, they said.
Surprise!!!
There were some murmurs on the coaching candidates.  Some names were floated, but the name that survived the online chatter was Derrick Pumaren.  As the releases said, not everyone was happy.
WHAT? WHY?
Derrick was a champion…. 30 years ago. Old school. Can he still coach at this level?
<Flashback. The first Green Archer UAAP trophy was transferred from the Rizal Memorial Coliseum to the College Canteen of La Salle in 1989, a good three decades ago.  Those who were there to witness that historical event will still recall the moment FEU's Andy De Guzman whacked Joey Sta. Maria across the face in frustration in the waning seconds of that game have reached their golden 50s.>.
So …. Does he still have what it takes?
Some argue that after Derrick's stint in the professional league, and his subsequent return to coaching the UE Red Warriors and the CEU Scorpions, that his finest days as a head coach are in the past.
But … this is still a Pumaren.  That family name has delivered 7 of La Salle's 9 UAAP basketball titles.  Derrick masterminded the first 2 while brother Franz gave 5 including a four-peat run from 1998 to 2001.
As we share what we know, let us take you back on a stroll through numbers and history.
The lost years
After leaving the NCAA in the late 1970s to escape the growing on-and-off court violence, La Salle was in limbo sports-wise.  The Green Archers were still a team, but had nothing to really fight for. Joining the minor leagues left and right did not create much excitement.
La Salle had become a quieter sports-loving institution after the NCAA wars and was living peaceful days.  Not much to get excited about. No sports idols to cheer on. Even La Salle Green Hills stars such as Llewelyn Mumar, Joey Guanio and Eric Reyes left to play in the UAAP schools rather than stay in La Salle with to really play for.
Drifting along in a sporting vacuum may be peaceful, but it's definitely boring. The cheers were starting to be forgotten, moves of the Cheer Leaders (since renamed The Pep Squad) were fading away. But it's not easy to quiet those competitive juices.
The clamor to find a league grew. Under a lot of pressure from the student body and alumni, the administration finally took the application to the UAAP seriously and entered the league.  Since erstwhile coach Joaqui Trillo was clearly not ready to elevate La Salle into contenders in a major league, he turned over the keys to the team to a former DLSU point guard Frederick Pumaren, who was then just starting to do some coaching in amateur ball.
Entering the league as a newbie addressed the aimlessness of having a team with no home league. But it created different pressures. Lose, and the management can always use the "bago pa lang kami" excuse card.
When the UAAP board formally accepted La Salle and the floodgates were opened. We had something to play and cheer for!
Then reality hit.
What team could La Salle field to compete with the powerhouses of the UAAP?
Did Derrick Pumaren rock the 80s? (and we don't mean his outfits)
The few who remember Derrick Pumaren as a Green Archer guard will remember his intensity. He didn't really get much floor time, but when he was on the court, he was 100% committed. He did not want to lose.  His pride was too strong to allow that. No way.
Drafting his first line-up, Derrick Pumaren submitted a virtual line-up full of national team stars who have donned La Salle colors in the early 80s. In the list were national players and some who were on the 1980 PABL champion teams.  But the moment the UAAP eligibility committee got hold of this line-up, they raised eligibility issues.
That lineup would have rocked the boat. Nothing doing.
Pumaren was left to scramble to assemble a new line-up as the season was coming.
"They are against us.  They don't want us to win", Pumaren fumed while sitting on a chair in the athletics office in the St. Athanasius Gym.
Still there was hope.  Pumaren got the green light to include younger brother Franz and national team back up center and hook-shot specialist Tonichi Yturri in the lineup. They had some credentials, having trained with fellow Archers Dignadice, Uichico, Almario, Alfarero, et al on the national team. On paper the team looked like a possible Batman and Robin tandem which could rattle the UAAP. But then again, maybe not. A title might be a dream but a podium finish would not be a bad start.
Early enrollment in the early school of hard knocks
Reality check. Some stuff you learn the hard way.
It did not take too long before Pumaren realized that you need a solid 10-man rotation to compete in a competitive field filled with dominant bigs and pure shooters.
In a league which developed solid names like Allan Caidic, Pido Jarencio, Jerry Codinera, Gido Babilonia, Rabbi Tomacruz, Ernesto Hojilla, Silverio Palad, Louie Alas, Ronnie Magsanoc, Eric Altamirano, Benjie Paras, Jun Reyes among many, you need a really deep bench to beat these guys of this calibre.  Or at least a really good 10-man rotation.
La Salle's season one record was tough, ending with a 4-10 tally by beating NU and Adamson twice but being swept by the rest.
Despite the losing season, there was hope.  La Salle was never blown out of the water by any team even as a newbie, not even by the heavyweights.  In most games, the Green Archers would keep the game close within 5 points and get outlasted at the end when the team would be stifled with a defensive wall.
The team didn't finish at the bottom, and was competitive, so there was some room for optimism. But to be a champion? Unlikely.
<Fast forward to today. Anyone who thinks that Derrick can't assemble a champion team just has to look at what he did in those early years. That didn't happen by chance>.
Derrick Pumaren the master architect and builder
Rebuilding is Pumaren's "alas", or secret card.  Despite having reliables Franz Pumaren and Yturri on the team, Derrick began reloading his roster early.  He put his recruiting hat on.
His targets were always the dominant athletic players from other leagues.  One of Derrick's target was eventual PBA star Nelson Asaytono who was slamming 360s with the University of Manila squad in some minor tournaments. Didn't work.
When the Asaytono transfer did not pan out, Derrick hooked in the high flying Johnedel Cardel and gangling center Jun Limpot to bolster his roster.
What kind of a team did he have?
La Salle had holdover Joey Sta. Maria, a master in drop-step pivot moves with a deadly mid-range J, brother Dindo Pumaren who is a master point guard and can zoom from backcourt to front court in 2 seconds and can drain a 15-foot jumper in transition.
Derrick Pumaren loved the shooters from the flanks.  Being a diligent student of the late national coach legend Ron Jacobs, Pumaren favored pure catch-and-shoot forwards with the ability to drain that corner 3 and stretch that D.  Among the players whose skills were honed to the letter were Eddie Viaplana, Raffa Dinglasan and even Joaqui Garcia.  It was very similar to the way Coach Jacobs utilized the likes of Chip Engelland and Alfie Almario to spread the floor, opening the interior for the low post guys to operate freely.
Adding riflemen who can drain it from deep, a point guard that can slash as well as pull up from mid-range and a couple of post-up guy is the usual recipe for the Pumaren title-contention formula.  When all the pieces were complete, Limpot and Sta. Maria at the post, Cardel slashing and pulling up while Viaplana and Dinglasan taking turns burning the net from the distance, La Salle was primed to compete.
But some dreams don't come true, at least not when we want them to. La Salle repeated their 6th place finish in 1987. But there was real hope that a better result would follow. After all, some things take time.
Changing the UAAP landscape – from newbie to the finals in just 3 years
Derrick Pumaren was not only an architect and a builder, he proved to be a very good landscaper as well.
After the Archers managed repeat 6th place finishes in their first two years in the league, their third season saw them march to the finals against Ateneo. It was the first time in more than 14 years that La Salle and Ateneo squared off in the finals of a tournament. But the Archers failed to capture the title in the finals series.
Despite all the build up, why did La Salle lose to Ateneo?
It was because that Ateneo team was too darned DEEP.  For one, Ateneo had two dominant towers manning the paint.  Danny Fransisco, who easily could have been one of the most dominating centers of all time, teamed up with Alex Araneta and was backed up by former LSGH Greenie Eric Reyes. Mix this with lethal wing shooters / slashers in Emerito Chuatico, Reinier Jongco and Joseph Nieto, plus a deadly duo of speed demon guards in Jun Reyes and Olsen Racela, you have a team that is extremely tough to beat.
This blue team could beat you in transition and were equally as dominant in slow-ball. They were too good and La Salle was still too raw, too inexperienced.  For most of the Green Archers, it was too much too soon.
But even with the disparity in experience and talents, the game went down to the final seconds, ending with Dindo Pumaren sailing into the sunset of his UAAP career with a towel on his bowed head.
Some things you really have to learn the hard way. Especially if no one has done it before.
The recovery – assembling the winning pieces
The pain of losing to their arch-rival in the biggest stage of collegiate basketball became the motivator.    Derrick used the words PRIDE as his battle cry in motivating his squad while drilling his team into shape during the off-season. He continued to develop his players, and was rewarded when Limpot surprised everyone when he finished as MVP in the old Philippine Amateur Basketball League (PABL) as part of the champion Magnolia squad which he also coached.  And amidst all these, Derrick Pumaren continued reloading his line-up with the necessary pieces.
Teddy Monasterio, the first major San Beda Red Cub recruit, sharpened his handles and to eventually become the point guard of Green Archers future while the development of Colegio de San Agustin recruit Dicky Bachmann progressed significantly every year.
Derrick was always in the lookout for grassroots talents.  In an off-season move, Pumaren snagged LSAL star Gelacio Abanilla to be the back-up point guard; Abanilla would eventually bail out the Green Archers in Game 1 of the finals with the game clinching basket via drive down the middle.
Derrick Pumaren was the first coach to employ a structured offensive approach during the era of match-up one-on-one basketball.  Conventional thinking among most UAAP coaches then was to employ the Baby Dalupan principles, "tapat-tapat lang", and deploying their players was like a chess match.  Focus was on individual talents and plays were designed accordingly.
Pumaren went in a different direction. He focused on team play. Back-cuts and open looks primed by a low double-screens were already a staple in the Pumaren offensive sets back then. Think how similar plays used screens like that to free up Ray Allen in the NBA. Plays that were choreographed to involve all five players on the floor, properly timed with the shot clock in mind. That was how Pumaren ran his offense, fluid and purposeful. And effective.
He kept opponents off guard with a variety of defenses: straight man-to-man, matchup zone, 1-3-1 zone, the works. Opponents couldn't tell what offense to set up because he mixed up his defenses all the time. Opponents found it difficult to get any sort of offensive rhythm against his teams. Unpredictability and surprise were his tactics, and boy did they work.
Coaching Xs and Os. And more.
Before analytics became a thing, Pumaren was already a numbers guy.  During half time huddles, players were called out for turnovers, rebounds (or lack of), and shooting efficiency, although he used a completely different term back then. His plays were structured based on known data, not just gut feel or simple observation.
But there was one thing that made Pumaren different from the other coaches. Beyond the numbers and putting in the necessary pieces, Derrick Pumaren bled green. The guy preached pride being a La Sallite/ La Sallian in an era when that pride was challenged by a lack of success. That is why Coach Derrick and then team manager Popoy Dinglasan made a perfect pair.  Both breathed and preached pride and advocated unrelenting hard work on the floor.
During one awful loss due to lack of effort, the late Popoy Dinglasan and Pumaren lectured the players on the value of playing hard and how life was an interconnected whole. They locked the team inside the dugout for more than 2 hours just to deliver and instill the message "the hustle you have on-court will translate to your attitude outside the court, life and studies". That's an unusual post-game speech. They were deep insights, but they did resonate with the players at that time.
"Sasabihin ni coach, La Sallista ka pa naman tapos ganyan ka maglaro" reminisces former DLSU Green Archers stat guru George Gonzales. He also shared the cringe whenever a no-name player would score off an established star. "Dindo, nalusutan ka niyan?". No excuses allowed.
Pumaren was intense and fiery. No sugarcoating, no big brother approach. He would reprimand players in no uncertain terms. Yes, even his youngest brother was not spared from the rage of Derrick Pumaren during games and even in practice. Slack off and you get an earful.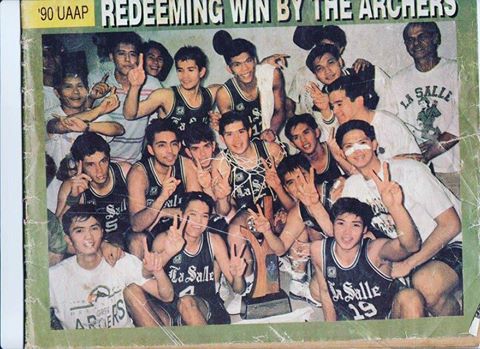 Derrick the planner
Did I say Derrick was/is a planner?
Even as he prepped the 1989 Archers for their season, he was laying out the foundation for future seasons.  While the Green Archers were deep in competition that year, Pumaren was already in full reload getting talents like the Lago brothers, Dwight and Elmer, Tonyboy Espinosa, and Noli Locsin, all of whom would play critical roles as stalwarts in their title chases of 1990 and 1991.
History tells us that after the crushing disappointment of 1988, Derrick prepared for the future, not just the next season. Reloading with talents, exemplary management of current rosters and succession management were all the components of Derrick Pumaren's success with La Salle.
And he was proven right when his teams took the 1989, 1990, and 1991 titles. Our first 3-peat. But in 1991 after the Green Archers had won the 3rd and deciding playoff game on court and celebrated the championship, the UAAP board pinned an officiating error on La Salle by forcing a rematch. The school refused to show up for the replay, and FEU stole the title via a 2-0 score.
A parting of ways
In the ideal world, this should have spurred Pumaren to go for vindication in 1992. But circumstances dictated otherwise.
After experiencing tremendous success and becoming the gold standard of collegiate coaching during that era, he was given a different, taller mountain to climb.
While serving as DLSU coach, Derrick was also an assistant coach in San Miguel under Norman Black. His success as Green Archer coach and his apprenticeship under Ron Jacobs and Norman Black led to an offer to coach a team in the PBA. A major factor in the decision was the new PBA ruling that a PBA head coach could not have the same role in another league.
Tough decision. Stay or go? Big league or collegiate league?
The PBA already had the luster and the fame that while the UAAP was just on its way to becoming the glamour league it is today.
The lure of becoming a PBA head coach is definitely difficult to ignore. Derrick Pumaren had a tough decision. But it was a definite step up.  So in 1991 after winning their "3rd straight crown", Derrick left La Salle to pursue a bigger dream to coach a new squad in the PBA, the Pepsi Cola Bottlers, leaving his trusted lieutenant Gabby Velasco to take over as Green Archer coach.
The years that followed
History tells us that FEU, which won the 1991 title in the boardroom, went on take the 1992 title, followed by the 4-peat of UST, another FEU championship in 1997, before Pumaren (this time Franz) engineered a 4-year domination from 1998 to 2001. Just as Derrick pioneered the structured, data-based coaching, Franz introduced the Pumaren Press, which terrorized opposing teams for years.
But that's another story altogether.
There were a few people who changed the landscape of the UAAP, and Coach Derrick Pumaren was certainly one of them. He drove a paradigm shift in collegiate coaching, and in so doing, helped to chart a new direction for college basketball.
So, can he repeat his success of 30 years ago?
Derrick Pumaren will try to repeat what he did three decades ago, return to the basics while doing something different. Coaching techniques have changed over the years, with information technology and data-driven analysis driving the trends. Things Derrick pioneered so may years ago when he first coached La Salle are common place today.
And other teams have taken it to a whole new level. For example, Ateneo has a virtual army of laptop, videocam, and tablet-equipped assistant coaches and analysts occupying the row behind their bench during games, providing the coach with data and insights into what's happening in a game on a real-time basis. In fact, some suspect that the Blue Eagles have more support staff than they have players in the lineup. Unusual? But hey, it's brought them back-to-back titles, and they're arguably on top of the Philippine collegiate basketball hierarchy today.
Derrick will need to bring the organization up to speed to match what competition is already doing. And he'll have to innovate in the same manner he did so many years ago if he wants to duplicate his success in leapfrogging the competition.
So will he replicate his success back then by writing a whole great new chapter in the Green Archers UAAP story? It's a story he started way back in 1986. Can he continue the next installment this year?
Just like the Terminator, he's back.
And one thing is sure, just like in 1986, he means business.